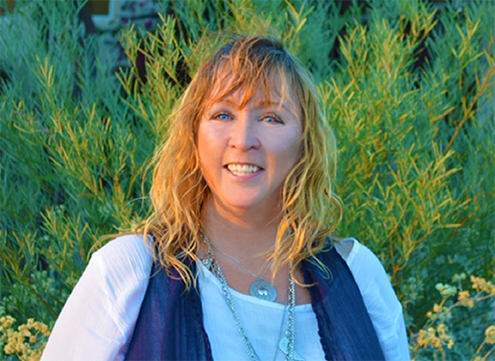 Hazel Williams-Carter ("Hazel") is an alternative health care consultant and facilitator with thirty years of experience in advising clients on: the non-medical role of the energetic influence of thoughts, beliefs and emotions and how they impact the health and well-being of the individual; a variety of alternative techniques, approaches, methods, and intuitive assessments based on the use of energy  fields and other natural processes intended to support and promote health and well-being; non-medical energy systems of the body including the aura, the chakras and the biofield; constellation work; and shamanic traditions, rituals and psychosensory modalities.
Hazel has received training in alternative approaches including, but not limited to,  Brainspotting and Bi-Lateral Stimulation Therapy (level 3), Guided Imagery, Meditation, Breath-Work, Music, Sound, Aromatherapy, Comprehensive Resource Model (CRM), Rewind Therapy, Dynamic Attachment and Re-patterning Experience (DARe modules 1-4),  Non Violent  Communication (NVC), Rapid Resolution Therapy (RRT), Brain Works Recursive Therapy (BWRT) level 2, Emotional Code, Mindfulness (MBSR), Neural Linguistic Programming (NLP), Emotional Freedom Technique (EFT), Havening Technique, Constellation Work and Soul Memory Discovery. Hazel has trained and experienced initiations with Shamans in the Celtic, Mexican, Peruvian, Brazilian, Hawaiian, and Tibetan Bon traditions and she completed a three-year training with The Foundation for Shamanic Studies. None of these trainings or certifications are recognized by the State of California and are all alternatives to traditional medicine.  They exemplify Hazel's background and the basis for her bottom up psychosensory work with clients.
Hazel experienced severe panic attacks and anxiety earlier in her live. She was guided to seek out alternative therapies that helped her regulate, ground, relax, heal and restore peace to her nervous system, physical, emotional, mental and spiritual bodies. She has a deep personal understanding of trauma and anxiety because of her own experience. She was highly motivated to learn the psychosensory modalities that helped her and is passionate about continuing her education in new methods of body-based healing and integrative mind-body techniques.
Hazel is now offering Shamanic Cacao Ceremonies once a month on Sunday mornings.
Please click the link below for more information.
IMPORTANT NOTICE AND DISCLAIMER
Hazel Williams Carter is not licensed in California (or any other state) as a psychiatrist, psychologist, social worker, marriage family child counselor, psychotherapist, or any other discipline involving the treatment of mental diseases, disorders, problems, or defects.  She does not render psychotherapy or psychology services.  If you are seeking treatment of any mental disease, disorder, problem, or defect, you should consult an appropriately licensed professional, and should not use or rely on the material in this website or any consultation with Hazel.
Prudence Hall MD
Founder & Medical Director, The Hall Center
Hazel Williams-Carter is my top referral for patients undergoing difficult life transitions and trauma. She possesses steadfast integrity, kindness and compassion, combined with an astonishing diversity of treatments and techniques. For many years, she has trained with top medical doctors and specialists in the field of trauma recovery, early childhood attachment repair and re-patterning, and is now defining that field. I have seen patient after patient restored to balance and integration by her care, and recommend her highly and completely. 

Eduardo
Musician and Teacher
I just went through these words, to express my gratitude towards you for the beauty of your heart and that of your work. I was not aware that one could carry in life, and for such a long time, all the luggage that tags along because of unresolved and forgotten issues. I don't really know how it works, but I do know that your healing work, and the love that you put into what you do, has not only helped me to let go of that unnecessary luggage, but at the same time has once and for all healed and solved the source of my wounds. After our session, I can say that my life became lighter. I can only think about the beauty and potential that we have as human beings and all the things that we have to share. In other words, there's so much to learn about our own nature and it is my feeling that I have learned a lot about it from and after our meeting.

Jennifer Klisak
Artist
A true healer in the best sense of the word. Hazel works WITH you in alignment with the higher spirits to get to the roots of your potential. Working together on what is most essential on the soul level, I have walked away transformed on a deep, subtle level. Combining various elements of vibrational medicine and shamanism, Hazel has synthesized a very unique and powerful approach to her work of service and compassion. I am grateful to see such dedicated, advanced commitment to the higher good, and I look forward to seeing her expand this beautiful work in the future. With many thanks…

Rhonda Fields
Energy Healer, Malibu, CA
I experienced Hazel's sound/color work as a little slice of heaven that connects me to who I truly am. I cannot think of another time when I have felt more held or more completely at home in the wholeness of my being. These are healings of such deep pleasure and well-being.

Maria Avila
Psychotherapist
I began my work with Hazel about a year ago. In that year I had just four amazingly powerful and distinctly different sessions. During each session, Hazel's skills intuitively guided me to deeper understanding of my life choices, my relationships, and myself. Hazel's mastery of many different healing disciplines provided just what was needed to further the deepening of my connection to my soul and thereby my ability to discover how I belong and am part of the collective. I touched my soul and became a part of this world and from my belonging came my understanding that all knowledge is shared, expressed, and enjoyed through service. I am grateful that Hazel has helped bring "light" to my life and helped me see with clarity and purpose.

Amy Carpenter
LCSW, Psychotherapist
This healing work has shifted my consciousness, both as a practitioner and a person. I have found myself "opened" in ways that deft description, but strike at the core of my very essence. Hazel embodies the rare healing attributes of love and compassion, which are the foundations of her work and allow for great trust to begin. It has been a profound journey, one I am grateful for, and will continue to learn from for years to come.

Corie Tappin
L.Ac,. Dipl. O.M. Founder, SoulSpace Healing Acupuncture & Wellness.
Hazel has changed my life in so many ways. She is my teacher, mentor, spiritual counselor, and friend. She is a divine and enlightened person, who has helped me evolve into the highest form I can be. I can't imagine what my life would be like if I hadn't met Hazel. She helped me find my true path in life.

Maria Madden
R.N .BSN
Hazel has the ability to help you navigate your most complex issues and traumas, bringing you to a place of healing and resolution you never thought possible. She treats her clients with such loving kindness that you will find yourself having breakthrough after breakthrough during the sessions. I hold Hazel and her work in the highest regard, and have recommended her to many of my patients.

Alicia Silverstone
Hazel Williams Carter is offering  Constellation Workshops in Los Angeles. In case you'd never heard of constellation work before, take a look at Hazel's website www.healingtraumacenter.com. I had a very good experience with constellation work awhile ago. So if you are looking for healing in any part of your life, I definitely recommend this.

Join my weekly newsletter to find out the
latest news about my groups and events.